Project Management in IT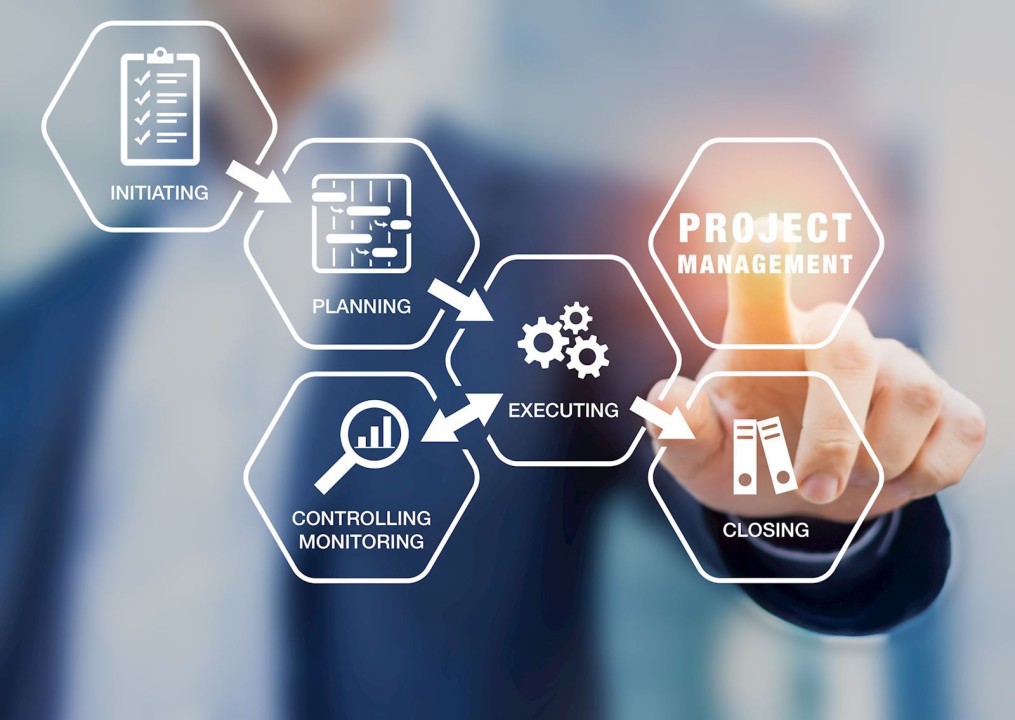 IT project management involve a number of functions like software development, hardware installations, network upgrades etc. The goal is to make them move in a direction that takes the company towards its goals and success.
IT project management has different techniques and methods depending on the industry and type of projects. Some of these include planning, execution, and monitoring.
Definition
Project management is the process of planning, organizing, directing and controlling projects. Businesses of all types rely on projects to achieve their short-term and long-term goals. IT projects are no exception. IT project managers are responsible for ensuring that information technology projects stay on schedule, within budget and deliver value to stakeholders.
The first step in the project management cycle is initiation, which involves identifying the objective of the project and creating a plan. Many organizations also run feasibility studies at this point to ensure that the project is a worthwhile undertaking.
During the planning phase, IT project managers and their teams work together to create a blueprint for success. This includes establishing deliverables, assigning responsibilities, creating a timeline, defining important success metrics, and determining the best methodologies to use for completing the project.
Once a project plan is in place, the project moves into execution mode. During this phase, development teams get to work on their assigned tasks. This can be a challenging phase for IT project managers, as the complexity of the work increases and changes occur throughout the project life cycle. The project manager must constantly juggle priorities and resources to keep up with the evolving requirements.
IT project managers must also be able to effectively work with distributed team members, who may not have the same physical location or work schedules. Communication and collaboration tools are key to overcoming these challenges. For example, IT project management software can help teams stay connected and share documents across time zones. In addition, IT project management teams must be able to prioritize and resolve issues quickly when they arise. For example, if a bug is discovered in the middle of a complex IT project, it must be fixed as soon as possible to prevent any delay in delivery.
Planning
Project planning is the process of defining the scope, budget, and important milestones of a project. It also involves the identification of the team members and resources needed to complete each task. It is also important to determine what deliverables will be created and how they will be delivered. The project plan should also include a schedule that includes when each task is supposed to be completed. This will help with tracking and reporting on project progress. The project planning phase should also address potential risks and create steps to mitigate them.
The next step is the execution phase of a project. This is the phase where the plans and procedures devised in prior phases are put into action. During this phase, the IT project manager will oversee all aspects of the IT project and ensure that everything is running smoothly. This may include analyzing reports, identifying obstacles, adjusting schedules and budgets, conducting meetings, and other management tasks.
IT projects are often complicated, and it is important to make sure that each step is planned out clearly. Creating a clear timeline and sequencing of tasks can prevent delays in the delivery process. It is also important to make sure that all stakeholders are on board with the project plan.
It is also important to establish a communication system for the IT project. Regular meetings and a central location for project documents can keep everyone on track and up to date. This will also prevent any miscommunications that could potentially cause problems down the road. Lastly, IT projects require detailed documentation, so it is important to have a central place where all electronic documents can be stored and accessed by authorized stakeholders and team members.
IT project managers should have strong technical skills. They should also be excellent communicators and have leadership capabilities. This is especially important because IT projects often involve working with other departments or teams within an organization. IT project managers should also be able to collaborate with external vendors and contractors. In addition, they should have a good understanding of technology trends and developments.
Execution
The execution phase is the project's actual work, where activities are carried out and deliverables produced. During this phase, it's common to encounter project-related issues, which is why the IT project manager must be ready and willing to make course corrections as needed. Ongoing monitoring is a crucial aspect of this phase, allowing the IT project manager to assess the progress of each activity in light of the original plan, as well as monitor changes to the project's scope, budgets, deadlines and objectives.
The IT project manager must manage the project team, procure resources, identify and mitigate risks, modify the project plan, hold meetings, collect reports, and conduct other activities. This is also the stage when the IT project manager should ensure all project deliverables are completed and meets the quality standards set by the company. It's also important to establish a strong communication channel with all project stakeholders, including internal and external partners, customers, or users.
Project management software helps with IT projects by providing a platform for teams to communicate and collaborate in real time. IT teams can use tools like Zoom, Google Docs, or Microsoft Teams to share files and documents, as well as hold virtual meetings.
This project management software can help IT teams improve productivity by reducing the time and effort required to complete tasks. It can also help IT managers track and monitor project progress and milestones in real time, as well as make better decisions with more accurate data.
The project management software tools that you choose should allow you to quickly and easily collaborate with team members and stakeholders. It's also a good idea to encourage or even require regular check-in meetings, so everyone stays on the same page. This is especially crucial if your project is complex or involves a large number of people. You want to avoid any miscommunication that could lead to delays or cost overruns. This will ensure that the project is completed on time and within budget. It will also give you the opportunity to learn what aspects of your IT project management process were effective, as well as what unexpected occurrences or variables might need to be planned for in future projects.
Monitoring
The monitoring phase of a project involves surveillance and tracking to ensure that projects are progressing smoothly. It also involves identifying and resolving any hurdles or gaps that may arise. This is when a project manager can use IT management tools to help teams stay on task and prevent bottlenecks.
It's important for IT managers to keep track of what their teams are doing and how they're doing it. They need to make sure that each team member's responsibilities are clearly defined and that the tasks they're assigned are matched with their skills and expertise. It's also a good idea to set up daily meetings and communicate with the team frequently so that any issues can be addressed before they become big problems.
IT projects often have a lot of moving parts, so they need to be carefully sequenced and monitored closely. This helps to ensure that the entire project is delivered on time and that all required steps are taken. It also makes it easier to identify any resource dependencies, which are aspects of a project that are dependent on each other. For example, the HR team can't upload new employee forms until the web development team has finished with the company's website redesign.
Another component of IT project monitoring is assessing the quality of the deliverables. This is when IT managers are able to check for errors and omissions in the finished product and take steps to fix them. This is especially important for large IT projects that require a significant amount of resources or have complex workflows.
Finally, IT project managers must monitor the financial aspect of the project. This includes analyzing the budget and tracking expenditures. This helps to ensure that all project costs are accounted for and that the budget isn't going overboard. It's also helpful to have an IT project management software that can help track and manage expenses as well as provide a real-time picture of project budget status.
Managing IT projects can be complicated, but effective IT project management is essential to meeting business goals and delivering on-time results. Using IT management tools can improve collaboration, increase visibility and transparency, and reduce risks.
IT project management involve a number of functions like software development, hardware installations, network upgrades etc. The goal is to make them move in a direction that takes the company towards its goals and success. IT project management has different techniques and methods depending on the industry and type of projects. Some of these include…
Recent Comments
No comments to show.